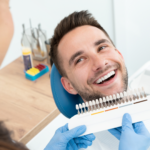 Top Cosmetic Dentistry FAQs
September 25, 2023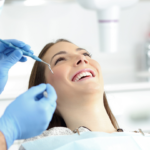 How Often Should You See a Dentist
October 29, 2023
Your permanent teeth should remain intact and beautiful your entire life. However, things will happen to thwart this plan, such as accidents that cause chips in teeth or decay that requires root canals or large fillings. Today, with porcelain veneers and crowns, dentists can repair the damage and restore the look and function of your teeth. Discover the differences between veneers and crowns to understand why your dentist may recommend one instead of the other.
What Are Veneers vs. Crowns?
Veneers and crowns are both ways to restore the teeth, but they have different applications depending on the type and location of the damage. Your dentist will choose the option that works best to recover the look and operation of your affected tooth.
When You Might Need Veneers
Many people get dental veneers as a solution to cosmetic problems with the front teeth. Dentists place veneers as a way to cover up these problems with perfectly sized and shaped pieces of very thin, durable porcelain.
Talk to your dentist about getting veneers if you have one of the following issues with your smile:
A gap between your front teeth
One or two teeth that are too short compared to others
Small chips on teeth
Individual teeth with discoloration, as may happen after a root canal
Improperly shaped teeth due to genetics or accidents
Veneers offer a covering to conceal the issues above. They do not strengthen teeth and serve as a cosmetic solution only. Therefore, before you have veneers, talk to your dentist to see if you need fillings, gum disease treatment, or other dental treatments.
To get veneers, the dentist needs to prepare the surfaces of your teeth by removing a little of the enamel. This process of enamel removal ensures that the veneers sit flush on your teeth. They will then take digital images of your teeth for the veneer-creating lab to use. In the meantime, you get temporary covers for your teeth. Once the veneers arrive from the lab, your dentist will request that you return to have them affixed to your teeth.
While you may need to wait a few weeks after your initial appointment to get your finished veneers in place, the reward will be decades of a great-looking smile.
When a Dentist Will Fit You with a Crown
Dentists often place crowns over back teeth or those that need extra strength. While veneers only cover the front-facing side of a tooth, crowns cover the entire tooth.
Since crowns fit over the entire tooth, they best work when you have had extensive dental work, rendering a molar weak or severe damage to the tooth. For instance, if you need a root canal on one of your large back teeth, you need a crown over the tooth to restore its biting capabilities and reduce the chances of cracking. Dentists may also use crowns to support bridges that replace missing teeth. If you get a dental implant, the dentist refers to the top part of the implant as the crown, which looks and feels like a real tooth.
To ensure that you get a crown that will fit correctly over your tooth, the dentist will take digital images of your tooth to send to the lab to create the crown. In the days while you wait, you'll wear a temporary crown. However, once finished, the lab sends the completed permanent crown back, and you have your dentist adhere it to your tooth.
Crowns may take a while to place, but you'll reduce your chances of root canal complications and have a strong, crown-covered tooth that functions like your other teeth.
Veneers vs. Crowns: How Long Do They Last
Veneers and crowns have long lifespans as long as you care for them properly. Regardless of whether your dentist places a crown or veneer, the option could last ten years or longer.
Lifespan for Veneers
Veneers have a wafer-thin form made of durable porcelain. Consequently, they resist staining but can still chip if you bite down on them too hard. Since the veneers typically fit on only one side of the front teeth, they don't undergo the forces from bites that the molars do. As long as you avoid biting down on hard foods with your veneer-covered teeth, you should be able to keep the veneers intact.
If a veneer cracks or chips, you need to have the entire veneer replaced. Similarly, if you want to whiten your teeth, the veneer won't change color with your teeth, and you may need to have it replaced. Finally, you may need to have the veneer replaced if you experience decay in the tooth, and the dentist needs to take off the veneer to treat the tooth.
Outside of reasons for premature replacement of your veneers, you should be able to wear them for at least ten years.
How Long Do Crowns Last?
Dental crowns cover the entire tooth and can last for 15 years or longer. Crowns add strength to a tooth, but in some cases, your crown can fall out or sustain damage. This type of damage increases in likelihood if you grind your teeth or if you use your teeth as tools. The only work your teeth should do is chewing food. Don't open bottles with them or chew on non-food items. Doing so increases the chances of damaging your crowns.
As with veneers, crowns require that you take good care of all your teeth. The crown will not make your tooth immune to decay. Keep up with regular dental visits, and contact your dentist as soon as possible if you break or lose your crown.
Get a Better-Looking Smile with Help from Our Team at Trailhead Advanced Dentistry
Veneers and crowns can both help to improve your smile, while the latter restores strength and function to teeth. If you need either a crown or veneers, work with a dentist skilled in these types of restorative and cosmetic dentistry. You will find just such an expert at Trailhead Advanced Dentistry, where you get customized care to achieve a healthier, more beautiful smile. Contact us to set up a visit to consult with our Dr. Reiter about veneers or crowns.