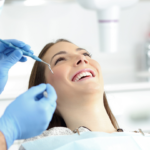 How Often Should You See a Dentist
October 29, 2023
Even people with healthy teeth can feel embarrassed to show off their smiles if they have alignment problems. Overbites, underbites, and crooked teeth can detract from a beautiful smile. Once, dental professionals used braces to correct these problems. However, you now have another option with Invisalign. Is Invisalign better than braces? The answer depends on you.
What Are Braces?
Braces are orthodontic appliances you wear on your teeth for several months to fix alignment issues with your bite. The metal brackets hold wires connected by rubber bands. The orthodontist adjusts to move teeth toward their newly aligned positions slowly. You will need regular office visits for adjustments to your braces.
Depending on the type of braces, the brackets may sit behind the teeth, have ceramic brackets, or have a traditional metal construction and fit across the front of the teeth. The type of braces you have directly impacts the cost you pay.
What Can Braces Correct?
Braces fix a wide range of alignment problems, including the most severe cases. However, the severity of bite problems is not the only factor dentists use in choosing the right orthodontic option for their patients.
Who Most Often Uses Braces?
Dentists will often ask about compliance with either braces or Invisalign. Patients who cannot adhere to the rigorous process required for Invisalign may find braces a better choice. Braces have built-in compliance because patients cannot remove the brackets or wires themselves.
Often, pre-teens and younger teens may get better results from braces because the equipment stays on their teeth 24 hours a day, and they don't have to remember to use aligner trays for the correct amount of time each day.
Pros and Cons of Braces
The biggest downside to wearing braces is the time required to complete the course. On average, most people need to wear braces for two years to get the results they want.
Additionally, braces can feel painful, especially after adjustments or after first getting them in. When you wear braces, you will need to eliminate anything from your diet that could stick in the braces. Caring for your teeth while wearing braces becomes essential to preventing decay and staining.
The benefits of wearing braces are the cost and the ability of the appliances to fix severe issues in younger patients. If you need to help your child straighten their smile, braces might help them better than Invisalign, depending on their age and responsibility.
What Is Invisalign?
The Invisalign system is a series of painless, clear, and removable aligner trays that replace the need for braces for many people.
Your dentist scans your mouth to create three-dimensional images. The Invisalign lab uses these images to create a series of trays to correct bite problems over the course your dentist prescribes. Instead of needing frequent adjustments at an orthodontist, you simply change to a new tray to move forward in the process. Find out what are the benefits of Invisalign.
What Conditions Does Invisalign Correct?
Invisalign works best for mild to moderate alignment problems. Some common conditions Invisalign can treat include underbites, cross bites, overbites, and crooked teeth.
Your dentist will evaluate your smile to decide if you have a bite issue that Invisalign can correct.
Who Can Use Invisalign?
Most people who use Invisalign are adults. User compliance plays a major part in the effectiveness of Invisalign. If you can keep the tray in your mouth for at least 20 hours daily during the weeks of treatment your dentist prescribes, you might get results from Invisalign.
When wearing these trays, you must remove them when eating and drinking. The trays can stain easily, so you must brush and floss before replacing the trays after meals.
Yes, your dentist will know if you have been compliant during the course of treatment. You will need follow-up visits while using Invisalign to ensure that your teeth move at the pace your dentist expected. If you don't wear the trays for at least 20 hours a day, you may need to change how long you use each tray from one to two weeks, extending your total treatment time.
Pros and Cons of Invisalign
The biggest benefit of Invisalign trays is their clear design. The trays are clear and nearly invisible, so you can show off a beautiful smile to everyone without broadcasting your need for dental alignment treatment.
Another perk of Invisalign is the ability to eat and drink whatever you want. You don't need a special diet when wearing these trays. You can take them out to eat, so you don't need to worry about food getting stuck in them, a common concern with braces.
Finally, compared to braces, Invisalign requires much less time to complete, with results occurring in as short of a time as six months.
For some people, the downside to Invisalign is the cost. For some people, Invisalign might cost more than braces, but the total cost will depend on the number of trays you need over treatment and your dentist. Ask your dentist about financing options if you need help covering the cost of your Invisalign.
Is Invisalign Better Than Braces?
So, is Invisalign better than braces for fixing overbites, underbites, or other misalignments? The answer depends on several factors, including your compliance and the severity of your misalignment.
The best way to find out if Invisalign is a good option is to make an appointment with an Invisalign-approved dentist. If Invisalign can help you, they'll get you started on the process.
Work with a Dentist Who Can Help You Find the Better Smile Correction Solution for You
At Trailhead Advanced Dentistry, we bring our patients all the latest dental techniques and services to ensure optimum care. If you want a straighter smile, schedule your visit to consult with Dr. Reiter. He'll guide you to find the right solution to help you get a beautiful, straighter smile.
You deserve the best dental care with advanced methods and compassionate staff, which you can find at Trailhead Advanced Dentistry, serving the Matthews, NC, area.