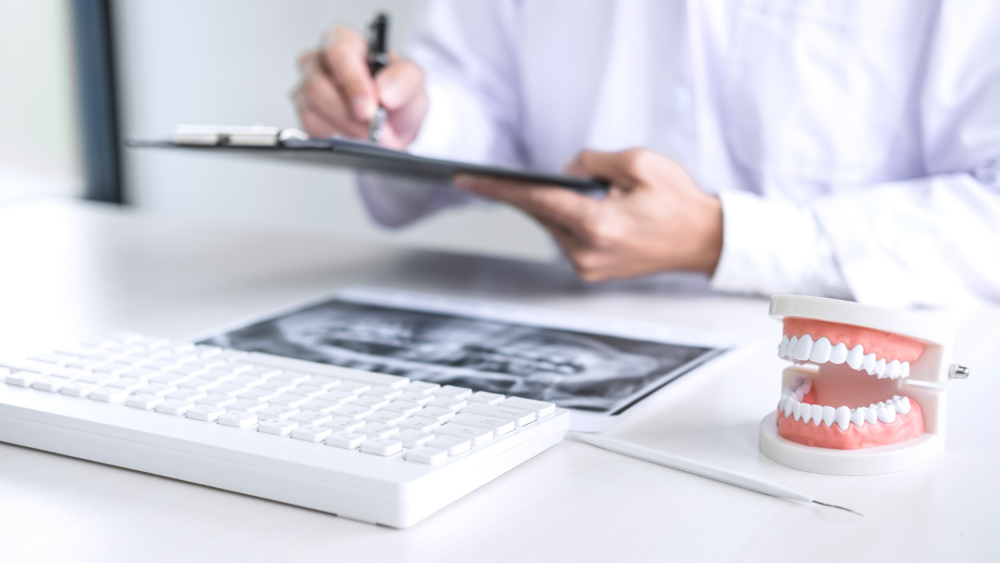 Understanding Out of Network Benefits
May 12, 2023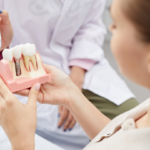 Who is a Good Candidate for Implants?
June 30, 2023
Tooth alignment impacts your appearance, but correcting the issue once meant you had to wear braces. Today, orthodontic solutions that use clear aligner trays, such as Invisalign, mean that you can comfortably get a better smile. Find out more about the benefits of Invisalign and ask a dentist if this could solve your alignment concerns.
Why Choose Invisalign? The Benefits of This Process
Invisalign straightens your teeth and corrects spacing issues without the need to have an orthodontist install braces. Why choose this process instead of traditional braces? The following are some of the most significant benefits you get when you straighten your teeth with Invisalign.
Computer-Modeled Results in Minutes and Physical Improvements in Weeks
Unlike braces, which may require months of wearing before you can see your finished smile, Invisalign's design process lets you see a rendered image of your smile before you begin your first week of treatment.
The dentist takes images of your teeth to create a computerized three-dimensional image of your mouth. The computer uses this image to assist the dentist in planning a treatment program for you that will consist of several weeks of using progressive aligner trays to reach the desired result. Because the computer models the progress, you can even see what your teeth will look like after you finish the program.
Plus, once you start using the trays, you will begin to notice a difference in your smile in just a few weeks.
Invisible Teeth Straightening
The Invisalign trays are completely clear. When you wear them, your smile remains unaffected. Unlike braces that advertise orthodontic treatment with wire brackets and braces over your teeth, Invisalign trays remain invisible. Your friends, family, and business associates likely won't notice that you have Invisalign trays in place throughout the day.
Corrects a Wide Variety of Alignment Problems
Thanks to innovations in Invisalign technology, most people can use Invisalign trays to correct a multitude of problems, including mild to moderate alignment issues. Your dentist can use Invisalign to treat the following:
Crooked teeth
Overbite
Overcrowded teeth
Crossbite
Impacted teeth
Underbite
Gaps between teeth
Protruding teeth
You won't know if you can use Invisalign without consulting a professional. Talk to your dentist about Invisalign to see if it can help improve your smile, regardless of the dental issues you may have.
Comfortable, Customized Aligner Trays
Each of the aligner trays you wear for the Invisalign process should last for one to two weeks of 20-hour-a-day wear. These tough, invisible aligners last this long due to their durable construction with Invisalign's proprietary SmartTrack material.
The dentist will use a scanner to generate a high-tech image of your teeth. Invisalign's labs use this data to create customized trays designed specifically for you. Each week or every two weeks, you advance to a new set of trays that gently but firmly move your teeth into better alignment.
Thanks to scanned three-dimensional images of your teeth taken by your dentist, the information used to create the trays is highly accurate, ensuring that each set of trays fits comfortably and snugly in your mouth. You won't need to worry about the aligner trays slipping in your sleep or when you talk.
No Painful Wires or Brackets to Cut Your Mouth
The smooth SmartTrack material does not irritate the tender tissues inside your mouth. With Invisalign, you can avoid the issues of cuts and pain caused by wires and brackets commonly used with traditional braces.
If the thought of painful braces and uncomfortable adjustments has kept you from getting correction of your alignment problems, talk to your dentist about Invisalign for a painless alternative.
Removable Trays
While you need to wear the aligner trays for up to 22 hours daily, you also have the freedom to take them out for a couple of hours each day. The removable trays make eating and brushing no different than they were before you started the Invisalign process. Some people even choose to remove their Invisalign trays during important meetings or events. The choice remains yours. Braces never allow you this type of freedom.
No Dietary Changes Needed
Braces often require that you change your diet. Sticky foods or those that could get caught between your teeth or braces become forbidden for the months-long treatment process.
Since the Invisalign process requires you to take out the trays for meals and snacks, you don't have dietary restrictions. You can enjoy the foods you love while getting a better smile.
Floss and Brush Normally Without Special Tools
Braces present specific problems for flossing and brushing. Since the process can take months, the difficulty in caring for the teeth and gums can lead to lackluster oral care. Many people with braces may have had extra plaque or cavities develop if they neglected to floss and brush properly. Additionally, many who wear braces need special tools to properly brush and floss their teeth without damaging the brackets or wires on the braces.
You don't need to change how you brush and floss when using Invisalign trays. You simply remove the trays when you need to floss, brush, and rinse. While brushing your teeth, clean the aligner trays with specialty cleaning tablets to keep them fresh and prevent bacteria from growing inside.
Fewer Complications
Invisalign trays have solid construction, which means they have fewer parts to break off. Those who wear braces often find that they need emergency repairs to broken wires or brackets. The durable Invisalign trays have a design that will last for a week or two, that you wear each set of trays. If you damage a tray, contact your dentist for a replacement or advice.
Find Out the Benefits of Invisalign for Yourself
The best way to find out how Invisalign can work for you is by talking to a certified provider about it. Our Dr. Reiter will evaluate your smile to see whether Invisalign will work to correct your problems. Schedule your Invisalign consultation by contacting us at Trailhead Advanced Dentistry. Let us make getting a better smile easier for you with Invisalign or our other cosmetic dental services.