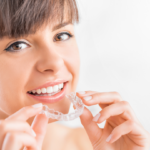 Benefits of Invisalign | Our Guide
June 30, 2023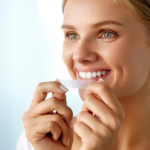 Are Whitening Strips Bad for Your Teeth?
July 14, 2023
Do you have missing teeth or need extractions soon? Have you considered dental implants? You'll need to talk to your dentist to find out whether you are a good candidate for implants. If you are, you can get natural-feeling replacements for your missing teeth or stable supports for dentures.
What Are Dental Implants?
Some people think of dental implants as the full, three-piece replacement tooth that consists of a screw, abutment, and crown. However, dental implants technically only refer to the permanently placed screw the dentist surgically inserts into the jaw. This screw replaces the root of your missing tooth. On top, you will have a connection, called an abutment, for either a crown or dentures. Depending on the number of teeth you have missing and their locations, you may have individual implants for each tooth or multiple implants to support a full arch of dentures. Your dentist will advise you on the best option based on your dental anatomy.
Because the process of placing an implant requires several surgeries, not all dentists offer this type of treatment. Experts in implant dentistry also recognize that not all patients make good candidates for the service. You'll find out when you meet with the dentist if you have a good chance of successfully getting implants.
Why Get Dental Implants
Dental implants represent the cutting edge of dental technology. People can have missing teeth replaced with implants that sit firmly in the mouth and don't fall out or become loose over time.
People who get dental implants also benefit from a reduction in jaw bone erosion following tooth loss. By maintaining the integrity of your jaw, implants prevent changes in face shape. The preservation of bone and face shape becomes especially apparent in those who have implants to support full arches of dentures.
Finally, implants create a positive impact on the overall appearance of the smile, not just the face shape. They fill in gaps created by missing teeth and preserve dental spacing.
If you are on the fence about dental implants, the best first step to take is to talk to a dentist to see if you qualify for this procedure and how it can benefit your dental health and appearance.
Who Is a Good Candidate for Implants?
Since implants require several surgeries for the placement of a permanent fixture in the mouth, dentists need to carefully evaluate each patient to determine if they are good candidates for the process. A good candidate has the highest chances of success and the lowest likelihood of developing undesirable side effects. The following improve your chances of qualifying for this procedure:
Good Bone Structure in the Jaw
Your jaw needs to have enough strong bone in it to support the titanium screw that serves as the support for the implant. Over time, the jaw bone wears down so thin that it may not properly support implants. Therefore, getting implants as soon as possible after tooth loss increases the chances that you will be a good candidate for the procedure.
Healthy Gums
Because you need multiple surgeries that cut into the gums, you need healthy gums to be a good implant candidate. Strong, disease-free gums heal properly after each surgery and have lower chances of infection. Periodontal disease may require treatment before you can get implants, or you might need an alternative to implants, especially if gum disease causes tooth loss for you.
Overall Good Health
Good overall health and not needing medications that can impact bleeding or healing put you in a good position to get implants. However, talk to your dentist if you have any of the following:
Previous radiation therapy in the neck or head
Diabetes
Cardiac disease
Thinning bone in the jaw
Bleeding conditions
Taking immunosuppressant medications
The above issues may increase the risk of infection or slow healing. Your dentist may suggest an alternative to implants or request that you take a course of antibiotics before your implant surgery.
Alternatives to Implants for Those Who Are Not Good Candidates
You don't have to live with a missing tooth if you are not a good candidate for implants. You may choose a bridge to fill in the spot in your mouth.
Bridges work well if you need a single implant but are not a good candidate for the procedure. This option does not require surgery for placement. The preparation for placing the bridge resembles getting a crown on a single tooth. Instead, the dentist will place crowns on the two teeth on either side of the gap with a replacement tooth between.
A well-made bridge can look and feel good while giving you a complete smile without gaps.
What Happens During the Implant Process?
During the dental implant process, you start with an evaluation from the dentist. At this initial visit, the dentist will examine your mouth and take three-dimensional images to see inside the bone structure.
After looking over the images, the dentist will advise you on whether you are a good implant candidate. If you are, you'll plan the treatment schedule and talk about financing.
Your first procedure will involve the placement of the screw in your jaw. Following the placement of the screw, you will need to wait for your body to heal and bone to grow around the screw. The natural growth of bone around the screw secures the sterile piece in place to prevent it from falling out or loosening. Additionally, this growth maintains your jawline profile because you avoid bone loss.
Once healed, you'll get the abutment on top of the screw. This piece connects the crown to the screw, allowing replacement of the crown if it becomes damaged in the future.
Finally, you'll have the crown placed on the abutment. When finished, you may not be able to see a difference between your implant and the surrounding natural teeth. Your exact process may differ slightly. The dentist will discuss your procedure schedule at the evaluation stage.
Schedule a Visit with Us at Trailhead Advanced Dentistry to Find Out Whether You Are a Good Candidate for Dental Implants
The first step in replacing your missing teeth is to schedule a visit with an implant dentist. During an appointment at Trailhead Advanced Dentistry, you can find out whether you make a good candidate for implants or need another service. Whichever type of dental treatment you need, you can get it right here at Trailhead Advanced Dentistry. We want to give you a complete smile and keep your teeth and gums healthy with our dental care. Contact us for more information about our services or if you want to schedule an evaluation for implants.