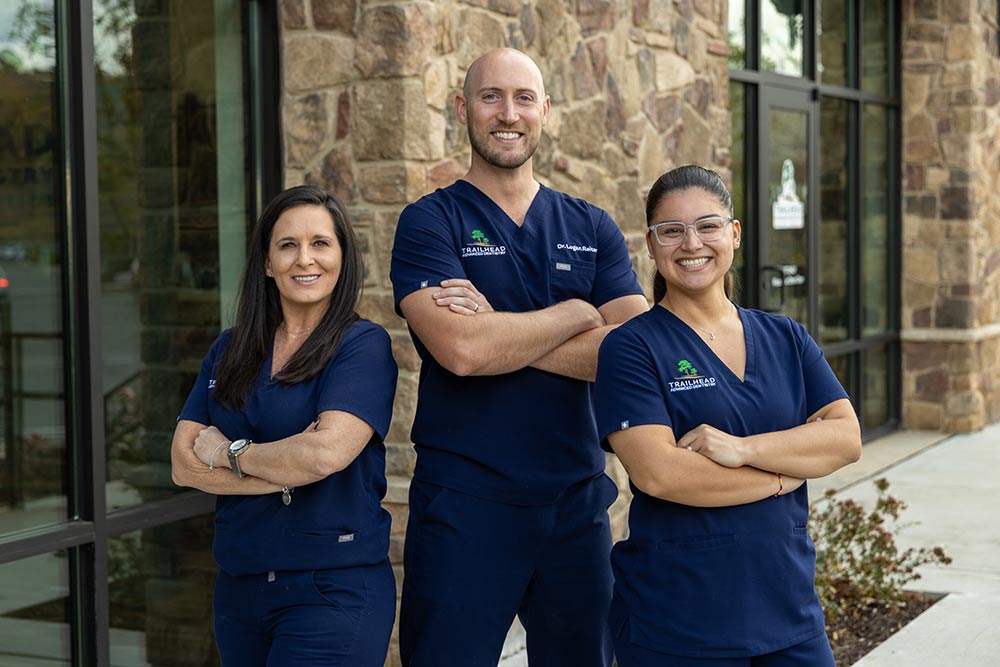 Customized Dental Care in Matthews, NC
Are you looking for a new dental experience? You've come to the right place! State of the art technology meets personalized service and uncompromised quality at Trailhead Advanced Dentistry. Come see what we're all about!
At Trailhead Advanced Dentistry we offer outstanding dental care to our patients using the latest and greatest dental technologies and techniques in the warmest of environments. We aim to treat every day as an exciting new learning experience and as a chance to grow with our teammates and patients. Above all, we are motivated to be excellent at what we do, and that quality will resonate in our patient's appreciation
Tired of looking in the mirror and not recognizing your own smile? If you're missing one or more teeth, dental implants could be the answer. Dental implants are custom-made titanium posts that act like roots for artificial teeth. Once installed into the jawbone, they hold replacement teeth in place just as naturally as root anchors. Our dental implant system has literally changed people's lives.
Dental veneers are a great way to fix any number of cosmetic issues with your teeth. These thin shells made of durable porcelain can be permanently bonded to the surface of your teeth using special adhesives, effectively covering up stains, chips, cracks, or uneven surfaces. Give us a call today and schedule a cosmetic consultation.
If you are considering orthodontic treatment, you may be wondering if clear aligners are a good option for you. Clear aligner orthodontics is a type of treatment that uses multiple sets of clear plastic aligners to correct your smile. Call us for a consultation and we can map out a treatment plan that's right for you.
Trailhead Advanced Dentistry focuses on personalized dentistry for every patient. We pride ourselves on taking the time and getting to know you and your smile goals. From the first step through our door, you will witness the personal touch we have created in our patient experience.
Schedule Your Dental Appointment at our Matthews, NC Dental Practice Today!