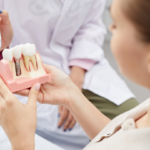 Who is a Good Candidate for Implants?
June 30, 2023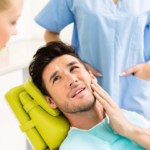 Can a Dentist Help with TMJ?
July 14, 2023
You may think over-the-counter whitening strips will offer you a budget-friendly, fast way of correcting teeth discoloration. But what price will you pay for using whitening strips?
"Are whitening strips bad for your teeth?" Depending on the brand you choose, they might be harmful. At best, they won't work as well as you may expect. Instead, find out safer, more effective alternatives to whitening strips that will get rid of stains and discoloration.
What Are Whitening Strips?
Whitening strips are small pieces of flexible plastic impregnated with active ingredients that whiten teeth one or two shades over time. The concerns with using these strips stem from their safety and effectiveness. Understanding how these strips work will help you to recognize how they can harm your teeth and why dental-supervised alternatives protect you from the dangers inherent in whitening strips.
How Whitening Strips Work
These strips use either carbamide peroxide or hydrogen peroxide to bleach the teeth by oxidizing the proteins in the dentin layer. A dental-safe adhesive lets the strips stick to your teeth. The bleach acts on surface stains, called extrinsic stains, on the enamel.
Usually, you'll place these strips on your teeth for several minutes a day for a prescribed number of days. However, these strips will only lighten your teeth a small amount. Plus, they do not help if you have stains that require multiple shades of whitening or originate inside the teeth.
Are Whitening Strips Bad for Your Teeth?
While anyone can easily buy whitening strips from a pharmacy, the strips may not be completely safe for everyone, especially with repeated use.
First, a study from 2019 found that whitening strips could damage the dentin layer by breaking down collagen in the dentin. At the same time, researchers acknowledged that the subject needed more study to see if the decrease in collagen remained permanent or if the teeth could regenerate this protein.
Second, many people who use whitening strips experience sensitivity after treatment. The dental sensitivity indicates some temporary harm to the enamel or dentin layers.
Another concern with whitening strips is their ill fit. These strips can overlap on the gums, especially if you have short teeth. Exposing the gums to the whitening ingredients can cause gum irritation and pain.
The fit of the strips can impact the effectiveness of this product. For example, when the strips do not sit flat against your teeth, they can leave untouched areas that look like stains when the surrounding teeth whiten.
Finally, the effectiveness of whitening strips becomes a problem when you need to get your teeth several shades whiter. Strips only brighten the teeth a couple of shades, at best. However, if you use them too often or don't follow the package instructions, you won't get better or faster results. Instead, you may harm your teeth and make sensitivity in your teeth and gums longer lasting.
Safer Alternatives to Whitening Strips
You can get great results without using whitening strips. Seeing a dentist for professional whitening options allows you to have whiter teeth under the supervision of a professional. Unlike whitening strips that can damage the dentin without mitigating the harm, dentist-provided options have fluoride added. This fluoride improves your comfort levels, reduces sensitivity after the procedure, and helps your teeth to remineralize and stay strong.
Dental Take-Home Whitening Kits
At Trailhead Advanced Dentistry, we offer our patients Opalescence Go for our take-home whitening kits. These kits come in different strengths to help you reach the desired level of whiteness in just ten days. The 10% strength requires only 30 to 60 minutes of wear daily, while the 15% level requires no more than 20 minutes a day of use.
Unlike strips that can buckle and not completely cover your teeth, Opalescence Go uses pre-filled trays that conform to the shape of your smile. You don't have to fill trays or struggle to align strips onto your teeth. Once you complete your treatment for the day, you discard the tray and use a new one the next day.
These take-home kits let you choose when and where you whiten your teeth. Plus, they require less time than many whitening strips and offer better results.
If you have had sensitivity from whitening strips in the past, you may still have success with the Opalescence Go system. The trays have potassium nitrate and fluoride to prevent sensitivity and maintain dental health when using this system.
This system is a great option for fast, convenient whitening that protects your teeth.
In-Office Dental Whitening
For the fastest results and even brighter teeth, you may opt for in-office whitening. At Trailhead Advanced Dentistry, we use the Opalescence Boost system that dispenses with the old requirement of using an LED light to activate the bleaching agent. Instead, you will have chemically activated gel applied to your teeth.
Because the Boost system uses a stronger bleaching ingredient to produce its one-hour results, it requires a professional application to your teeth. The dentist will apply a gel on your gums to protect them from irritation. Then, they'll cover your teeth with the bleaching gel in two to three 20-minute treatments. The number of treatments you need depends on how many shades you want to whiten your teeth.
As with the take-home option, the Opalescence Boost gel contains potassium nitrate to prevent sensitivity and fluoride to protect dental minerals.
After only one hour of treatments, you'll see amazing results from in-office whitening without the dangers posed by whitening strips.
See Trailhead Advanced Dentistry to Get Whiter Teeth Safely
You don't have to put your teeth at risk. Lost enamel never comes back. Trust your teeth to safer whitening overseen by a professional. Contact us at Trailhead Advanced Dentistry to get brighter results safely with our in-office or take-home whitening options. You can get rid of intrinsic and extrinsic teeth stains and discoloration without using potentially harmful whitening strips. Let us at Trailhead Advanced Dentistry become your partners in getting a beautifully white smile.