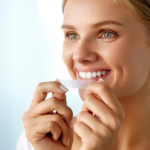 Are Whitening Strips Bad for Your Teeth?
July 14, 2023
Do you suffer from TMJ/TMD? You may have this condition and not even realize it. Waking up with jaw pain and headaches is a classic indication that you may have TMJ/TMD.
So, how "can a dentist help with TMJ?" Because this condition deals with the bite alignment in your mouth and your teeth, a general dentist can help with one of several treatment options. Find out more to learn how you can find relief from lingering pain in your jaw.
What Is TMJ/TMD?
TMJ refers to the temporomandibular joint, which is the hinge of your jaw. Place your fingers just in front of your ears on each side of your face and open your mouth to feel the joint move. Problems with this joint include 30 different conditions, according to the National Institutes of Health, that cause pain or movement problems.
While some people use TMJ to refer to this group of issues, the more appropriate abbreviation is TMD, which stands for temporomandibular joint disorder.
Types of TMJ/TMD
TMJ/TMD types fall into one of three main categories, depending on the main concern. Some people can have two or all three types at once. The type of TMJ/TMD you have will help your dentist find an appropriate treatment for you.
First, TMD conditions could come from problems with the jaw joint itself. For example, if you have a degenerative bone disease, it can also wear away the bone in your jaw, leading to pain and problems moving your jaw. Joint problems may also come from the disc of the joint misaligned.
Another type of TMD occurs from problems with the muscles you use when chewing. This type of TMD causes pain that can stay localized and worsen when biting down. Some people feel jaw or face pain when biting down that spreads to other parts of the face.
Finally, headaches from TMD fall into another category of this condition. Many people who grind their teeth at night wake up with headaches from TMD. Others who clench their teeth from stress may feel headaches appear during stressful periods.
Causes of TMJ/TMD
Sometimes, TMJ/TMD occurs without a known cause. However, many people discover that stress, jaw clenching, or nighttime teeth grinding lead to problems with the muscles around their jaws and TMD. In other cases, anatomical issues, such as a missing or misaligned disc at the jaw bone or bone loss, cause the TMD. Arthritis can also affect the jaw joint, producing the pain of TMD.
What Are Common Symptoms of TMJ/TMD?
Symptoms of TMD occur due to jaw stiffness, muscle strain, and damage to the teeth. You may hear a clicking or popping sound when you open your mouth. However, unless you have pain accompanying this sound, it likely is a normal sound made by your jaw.
The more symptoms of TMD you have, the more likely you have the condition and require treatment to prevent lasting damage and pain. If you experience one or more of the following, talk to your dentist to see if you have TMD:
Pain in chewing muscles
Jaw pain that may come with accompanying clicking or popping sounds
A feeling of the jaw becoming stuck open or closed
Unexplained headaches, toothaches, neck pain, and earaches
Changes in bite alignment or how the teeth fit together, or difficulty in chewing
Facial swelling
If you have any of the above, you should see a dentist because these symptoms may also happen if you have gum disease or tooth decay. Finding the cause of your symptoms will help you to get treatment as soon as possible.
What Types of Home Remedies Work?
Home remedies for TMD only help to ease the symptoms and don't address the root cause of the issue. However, you can use these methods to feel better while waiting for your dental evaluation and treatment. The following are ways to get short-term symptom relief from TMD pain:
Adopt a soft food diet
Use over-the-counter pain relievers, such as ibuprofen, to ease inflammation
Apply hot or cold packs to the jaw to ease the pain
Integrate jaw strengthening and stretching exercises into your routine
Don't rely only on home remedies. You'll still need a diagnosis to find out if you have TMD or another condition. Plus, you'll need treatment for TMD to enjoy long-term recovery.
How Can a Dentist Treat TMJ?
Before treating TMJ/TMD, your dentist will need to diagnose you. They will ask about your history of jaw pain or headaches and take images of your mouth and jaw to see whether joint or tooth problems caused your condition. Once the dentist identifies the problem, they can offer treatments to help.
Bite Splint
A bite splint holds your teeth apart to prevent them from grinding together at night or during the day. By separating your teeth, splints prevent you from putting excessive strain on your jaw.
If your dentist thinks a bite splint, also called a bite guard, will help, they will take a three-dimensional image of your teeth or a physical mold impression. Then they will send this to a lab to have a custom-made splint produced.
Wear the splint as directed by your dentist, and continue to check in as requested to ensure that the device works to ease your TMD symptoms.
Bite Lift Reconstruction and Other Treatments
Another option is bite lift reconstruction. This method restores the alignment of the teeth to an appropriate bite. With better-aligned teeth, the jaw restores its naturally neutral position, which can allow it to heal from TMD symptoms.
Need a Dentist to Help Your TMJ? Contact Us at Trailhead Advanced Dentistry
If you have TMJ, stop waking up unrefreshed and with morning jaw pain or headaches. Contact us at Trailhead Advanced Dentistry in Matthews to schedule an appointment. Our Dr. Reiter can help you to find relief from your TMJ with treatment tailored for you. Plus, we have all other dental services that you may need, from preventative exams and cleanings to cosmetic treatments that make your smile look its best. Whenever you need dental care near Matthews, turn to us at Trailhead Advanced Dentistry.