Living in Ballantyne gives you a unique blend of small-town charm and big-city amenities. Within minutes of the area, you'll find upscale shopping, dining, and high-quality services.
Our practice at Trailhead Advanced Dentistry fits well into the high-end services of the area. At our dental clinic, you'll find our technology-driven treatment maintains a human touch. Discover more about us and why we are a top dentist in the area.
What to Do Around Ballantyne
You have plenty of things to do around Ballantyne. You'll find several parks, walking trails, and much more. Check out some of the great things to do for fun in the area:
Ballantyne's Backyard is a massive 100-acre park with ample greenspaces and miles of trails and serves as a recreation staple for many. Watch out for future developments when this park links directly to the new shopping and entertainment district Ballantyne Reimagined.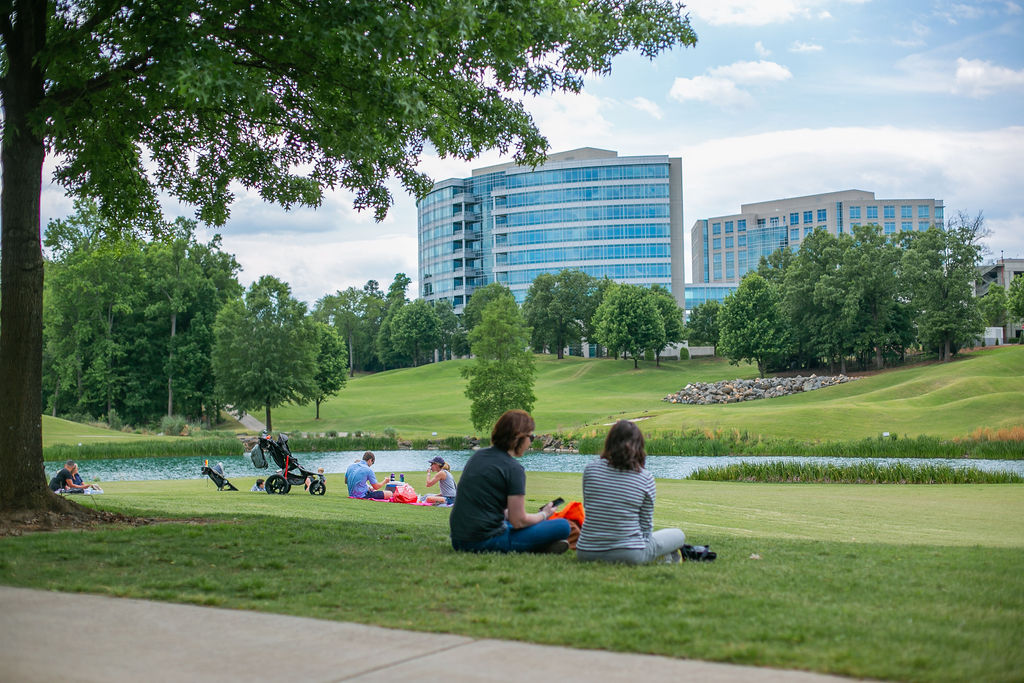 Several public art pieces appear around Ballantyne. These larger-than-life designs are great places to take pictures or simply admire the artistry. One of the most outstanding art pieces is the Ballantyne Monuments. Carved designs atop these 30-foot clay arches tower over the area. Originally, they served as a way to mark the future location of Ballantyne and pay tribute to the attributes that make Charlotte great. Look for designs on the monuments that show transportation, the human spirit, technology, and finance.
What We Do at Trailhead Advanced Dentistry
At Trailhead Advanced Dentistry, we dedicate ourselves to providing quality, custom dental care to all our patients. If you need a dentist for general teeth cleanings and exams, we will help you. We also provide restorative dentistry services, such as crowns or teeth whitening. Our high-tech solutions also include cosmetic dental services to make your smile look better than ever. Please find out more about some of our services below.
Dental Implants for Complete Smiles
Did you know that missing one or more teeth can change your entire appearance? When you lose a tooth, the bone under the space begins to recede because it no longer holds a tooth. You may have seen this happen to people who wear dentures. Over time, their face shape changes due to that bone recession.
The good news is that you don't have to worry about losing bone material or missing teeth. Dental implants provide you with a natural-looking replacement for one or more teeth that promotes bone retention in your jaw.
Implants look and feel like real teeth because they have several features that your natural teeth do. Like teeth, implants have a root portion, called a screw that the bone grows around for a permanent fixture. The top of the implant is a custom-created crown that matches your surrounding teeth.
If you need dentures, you might even qualify for implant-supported dentures that help you to avoid bone loss and have a better fit for your prosthetic teeth.
If you have one or more missing teeth, let us at Trailhead Advanced Dentistry help you to replace them with permanent implants.
Invisalign for Straighter Teeth
Do you have concerns about the alignment or spacing of your teeth? The Invisalign system could help you to have a better smile. This system fixes teeth with any of the following problems:
Crossbite
Overbite
Underbite
Crowded teeth
Too much spacing between teeth
Impacted teeth
Protruding teeth
Invisalign uses molded trays that you wear over your teeth throughout the day and night. You can take out the trays when you need to brush your teeth, eat food, or drink something. Unlike metal braces, Invisalign aligner trays are almost invisible, thanks to their transparent material.
If you are an adult who wants better alignment in your bite or teeth, request a visit with us at Trailhead Advanced Dentistry to see whether Invisalign will give you a smile you want.
Emergency Dentistry to Fix Urgent Problems
Be sure to know where to go before you have a dental emergency. Trust us at Trailhead Advanced Dentistry to help with your emergency dental needs.
Phone us immediately to alert our team to your arrival, and we will do everything possible to help you. Common dental emergencies we handle include:
Damage to a tooth from trauma, either loose or knocked out tooth
Cracked tooth
Swelling around a tooth
Extreme pain in a tooth
If you have an emergency, we'll prioritize your care and get you treated as soon as possible.
Visit Us When You Need a Dentist Ballantyne NC Locals Trust for Cosmetic, Restorative, and Preventative Treatment
Whether you already feel proud of your smile or need help to improve its appearance and function, contact us at Trailhead Advanced Dentistry. We work with those who live in and around Ballantyne to help them get smiles that look healthy and beautiful. Please make us your partner in your dental care.
Ready for your first appointment?
Has it been a while since your last visit? Bring back the sparkle to your smile — make an appointment to visit us!